At Morgan County REA safety is our top priority, for our co-op and our community. MCREA has a variety of safety presentations available that can be geared toward first responders, civic organizations, or school-aged children. If you would like to schedule a safety presentation, please contact MCREA Member Services at (970) 867-5688 or email memberservices@mcrea.org.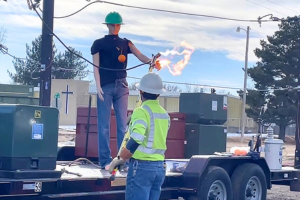 Hotline Safety Trailer 
MCREA linemen designed and built our hotline safety demonstration trailer  to teach our community the importance of powerline safety and  explain how electricity is delivered to our members. Operating at 7,200 volts, the trailer shows the dangers of powerline contact. The demo  also presents the opportunity for audience members to ask linemen questions about power or what to do in case of an emergency.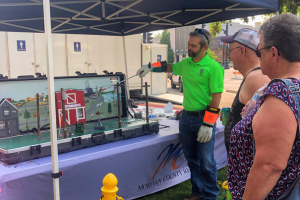 Tabletop Live Wire Demonstration
A smaller version of our hotline trailer, the tabletop live wire demonstration is perfect for a classroom setting. Though it doesn't produce as large an arc that the trailer does, the tabletop demo is electrified and shows what happens when people or objects come in contact with a powerline. This includes thoughtful discussion of what to do in case of a vehicle or farming accident, where a piece of equipment comes in contact with a live wire.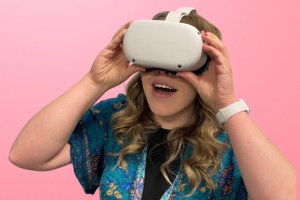 Virtual Reality Safety Demonstrations
 Our virtual reality (VR) demo incorporates new technology to increase   info retention and prepare people for real-life scenarios. Using the headset, the wearer gets a 3D, 360-degree view of an accident scene. Over the course of the video, the wearer learns ands see the correct procedures to take as a first responder, bystander, or driver of the vehicle. MCREA also has a farm safety video in this immersive format. The farming video highlights and instructs how to avoid electrical accidents.